JWW-10 NORDUCH SEUCH FIUCH NOUCH DKUCH INTUCH Puggens Wilma Ros Mix
(NORDV-07 SV-07 SV-06 SUCH Siivas Fabulous Forever -
Puggens Margareta)
Breeder: Lena & Johanna Nyberg.
Born 2009-08-30.
CC x 6, cacib x 5, R-cacib x 1, R-CC x 1.
At Rosa's first show she was BOB puppy! And also her 2nd show she was BOB puppy and showing with style and pride!
Her 3rd show was the World Winner show in Herning, Denmark, only 10 months old. Rosa won a strong Junior class and ended up as best bitch and her 1st title; Junior World Winner 2010. Rosa was excellently presented by one of her breeders; Johanna Nyberg. At the same show Rosa participated in the Puggens breeders group which was BIS.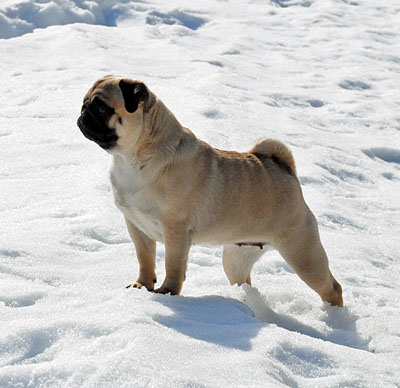 Rosa kommer ur en kull om fem valpar, hon har fyra bröder. Hon har samma mamma som Vicki, Vicki som bodde hos oss tills hon flyttade till Brasilien.
Rosa är en frisk fläkt som yr runt överallt, men hon somnar ofta i en hög nånstans.
Rosa är kontaktig, vill vara med mig överallt, går jag ifrån henne, piper hon lite försynt, på ett oförargerligt sätt. Det är mycket svårt att inte tycka om henne! Rosa min Rosa!