(Sherlock Of Glen Sheallag - Knegarens Tarantella)
1995 - 2005
Hips exc, elbows 1+1, eyes clear 2004.
Kevin var min första hane ur egen uppfödning som vunnit elva cert på utställningar i Sverige, Norge och Finland och flera placeringar på jaktprov.
Kevin startade på jaktprov första gången tretton månader gammal och fick då ett andrapris. Han var otroligt följsam och lyhörd med mycket will to please, snäll, trevlig, okomplicerad, älskade vatten, och att få arbeta med mig.
Kevin har 23 kullar med tillsammans 134 avkommor i Sverige, av dessa är nästan 100 avkommor röntgade. Han har lämnat 11 % HD och 21 % AD. Han lämnade något fler hanvalpar än tikvalpar.
Champions sired by Rossmix Rugger
INT NORDUCH TRIALER Rossmix No Regrets (13 CCs)
Ch SEV-03 SEV-07 Rossmix No More Waiting
Ch SEV-03 Rossmix Hard To Get (11 CCs)
INTUCH TRIALER Rossmix Fair Enough
Ch Rossmix Once In A Blue Moon
NUCH Jakos Amazing Grace
NUCH Jakos Armani Falco
Ch Gentlys Telling Stories
RusCh Int Ch Goldenone Safe Return (12 CCs)
Ch Dewmist Sandpoint
Ch Dewmist Sandarella
Ch Dewmist Sablefella
Ch Begoras Rondo
Ch Donshellas Sun River
PLCH Moondust Osti O'Shea
JCH Moondust Ophelia
Ch Dream Max Miracle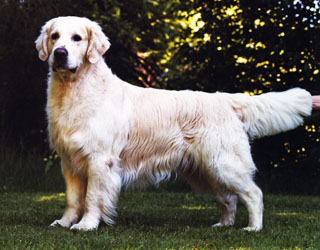 Kevin came from my first litter of goldens in 1995. He won 11 CC's in Sweden, Norway and Finland and started with some success in a couple of field trials. He started for the first time when he was 13 months old and then won a 2'nd in youth class. He had a lot of will to please, he was a nice, uncomplicated and charming boy who loved water and to work with me.
At the World Dog Show in Amsterdam 2002, Kevin won the Champion class and ended up as 2nd best male and got the R-CC. That same day two of his off spring also won their classes; INT Ch Rossmix No Regrets won the Working class and Rossmix Take It All won Intermediate.
Kevin was Top Stud Dog 2002 and Runner-up top stud dog 2003 and 2004.
Some CC winners sired by Rossmix Rugger
Dewmist Sarabande (1 CC)
Rossmix Love For Sale (1 CC)
Rossmix Take It All (4 CCs)
Hämörin Demeter, Finland (1 CC)
Hämörin Dafnis, Finland (1 CC)
Fairquest Celtic Saga, Finland (3 CCs)
Fairquest Celtic Sea, Finland (2 CCs)
Fairquest Celtic Sky, Finland (1 CC)